Gingerlocks and the Three Bears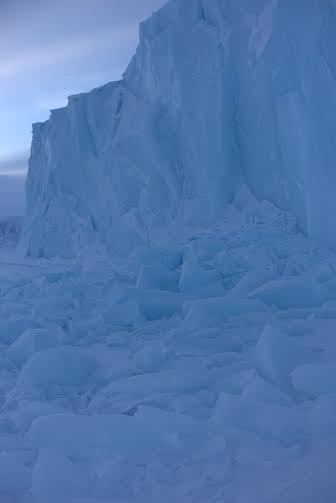 (Jamie)
It is northwards to Clyde and so northwards we went, leaving a warm and comfortable hut for the sea ice and our trusty tent once more. In good spirits and now both showing signs of good beard growth, things were looking up.
Growing facial hair has always been an issue for Benno so he has been delighted to start to show the signs of some serious progress on his chin and chops and I have been happy to see that his barb is also decidedly gingery in colour. It's an odd phenomenon that neither of has another ginger hair on our body, we have thoroughly checked, apart from the area between clavicle and nose. So leaving the hut, with a dash of the fox about us, we were determined to make a coastal point some 20km away but with our now reloaded sleds weighing in at around 50kgs heavier, life moved at a slower rate. We were both taken by surprise at quite how much more effort we were now putting in to move the sleds and our dream destination for the evening seemed sure to elude us. That is until we saw the bears- it's amazing what adrenaline will do for your daily mileage!
We had seen lots of tracks at the hut and criss-crossing our path for the past 6 hours, confidently announcing to each other that this was a male or here you could see a young mother and cub and that this track is clearly weeks old when Benno stopped and squinted at the horizon. "It's a bear" I replied as soon as I followed his finger and saw a mother and two cubs around 600m away, ambling along towards us very bear like and pausing occasionally to stand on hind legs to smell us and get a better view. Having rapidly dumped harnesses and grabbed shotguns, we secured Tala, hid the marmalade and loaded our bear bangers. As we watched the mother trundle closer who should we suddenly see bolting towards the bear at full pelt but Tala, having slipped her lead and seeing this as a wonderful opportunity to get aquatinted with her polar cousin. As the queen bee of Battersea Park and used to lording it over the Cockapoos and French Bulldogs, Tala is not lacking in self confidence and despite us shouting and swearing at her, she wasn't coming back for anyone. Benno and I watched in horrified silence both thinking this was going to end in one of two ways, neither happy. Tala would either get mauled or killed by the bear, very bad news meaning we would be left with only Colin who was trying his hardest to look in the other direction and pretend he couldn't see the bear, or Tala would get close enough to severely piss the bear off and when she realised this wasn't the big husky from the park and that maybe a play fight was out of the question she would run back towards us bringing an angry and irate mother bear with her. Tala however proved us wrong, she fully charged the bear, ears up, legs galloping, taking entirely airborne strides until the bear turned and with her cubs ran as fast as they could in the opposite direction. Tala chased her for around 600/700m, barked at the bear quite a lot as if to say " and don't come back" then turned round and strutted back to us looking very pleased with herself. Needless to say we weren't shouting at her anymore and she received lots of attention and praise once she had sauntered back to our position, head held high and in expectation of some flapjack for her bravery.
As the light faded and we watched the bear and Cubs saunter off into the dusk we decided to push on to put some distance between us and this large and powerful creature. It is a strange experience being separated from a large, hungry, predator by only an open stretch of flat sea ice and in some ways it felt as if we were watching the whole experience on the most vivid wide screen imaginable, which I suppose in some ways we were. Still it's nice to have a shotgun and a dog like Tala just in case you can't find the remote to change channel fast enough when things get a bit too real.
So we made the Point that evening and set off for our next destination, Cape Henry Kater. Having poured over maps looking at this area for many weeks it is always gratifying to arrive at a large, much anticipated check point as it helps validate the miles you have already completed and allows you to settle on your next objective. Having followed our neatly marked map exactly (EXACTLY) to the spot where the Inuit hunters had told us to cross the Cape, we were a little taken aback by the scale of the river valley running down the land. We had been told to expect a 'steep bit' at the beginning but the ravine slicing its way down a considerable Munro sized peak was not what we expected. Optimistic as ever we assumed the valley must level out behind and so began the bastard task of lifting the sleds over the 100ms or so of rocky beach and dragging them uphill. After one particular stint of shuttling the sleds up an increasingly steep slope we decided that a quick recce was in order to scout the terrain ahead and if this was a feasible or ludicrous undertaking. After 30 minutes it became obvious that getting a skidoo up this slope, let alone a 140kg man powered sled, would be a tough task and that turning round was the only feasible option. We walked back down to the sleds, which from our new perspective were resting on a slope resembling a challenging red run and we both marveled that we managed to get them that far uphill without realising maybe this was not the right route. We needed some help and when you are pissed off, shattered and confused on Baffin Island the only people to call are the Qik RCMP. We spoke to Chris and John first assuring them that we were fine and hadn't injured ourselves and asked that they tracked down Jaipotte for us, whose line on the map we had been diligently following. Thirty minutes later Jai was explaining to us that there is a hut to look for right by the valleys entrance and we were about 8km to the west of the position we needed and that our map was very hard to draw accurate lines on. We headed back down the slope as the sun began to fade, frustrated to have wasted a day, a huge amount of energy and our moods only briefly brightened when Colin managed to wrap Benno's legs up and send him down the slope head first as we were descending. Well it brightened my day although I daren't laugh as B looked like he was about to skin Colin on the spot. That night was definitely a brownie night and we gratefully ate the last of Celine's excellent treats and enjoyed her final quote which was, once again, oddly fitting.
The next day we found the hut and valley and with the river frozen our progress and morale increased as the day brightened up with the sleds skimming lightly over the still river despite going uphill. This was not to last. After 7k the river poured into a large frozen lake which was also easy to cross, however with the fog creeping in and an alarming uphill section in front of us we call it a day and camped in a shallow saddle. The next morning was bright and clear which revealed to us in all its glory the task that lay ahead; an undulating hillside, reminiscent of the Scottish highlands, dotted with incalculable rocks which poked menacingly through the snow. Jai's sage advice to "just follow the land" seemed a little optimistic now and so we headed North as best we could, aiming for the lowest saddle on the horizon and hoping to find a path through. The going was harder than either of us thought possible and always tinged with the knowledge that we didn't know if this was best course, having no map of a small enough scale to be of use for detailed navigation. The horrible small rocks sticking through the thin snow cover meant that we zigzagged constantly, often pulling for 5 or 6 metres for only 1 metre forward gained, all the while heading uphill. After 5 Hours of this we were both exhausted and beginning to feel cold despite the heavy work load, a sure sign we were running low on energy. Finally we crested the top of the saddle with the glorious sight of a flattish landscape ahead and in the distance the exit valley on the other side of the Cape clearly visible. Benno summed it up perfectly when he said "I feel a bit emotional".
Not only could we see that the land beyond was tolerably flat we also had a direction to aim for in the form of a topographical feature large enough to be clear on our maps, which put an end to those nagging doubts we were heading into a range of mountains. We trudged off down the hill exhausted and feeling depressed by the reading on the GPS telling us that despite all of our back breaking hard work we had only covered 6km in a straight line. The next day showed no sign of a letup in work load. Pulling pulks on anything other than flat terrain is horrible, any change in gradient is instantly noticeable and made painfully obvious by the biting of the harness into your back and yet we covered some good ground so slept thinking we would be back on the sea ice tomorrow evening. Oh what fools! Those last 16km proved to be every bit as difficult as the first section, constant ups and downs, rocks everywhere and the previously very obvious valley and river system slowly becoming a large drainage area for the surrounding marshes with many false exits and non -draining lakes meaning finding the actual watercourse was sometimes impossible. Both knackered from the previous 3 days our paced slowed and despite eventually finding he main river channel we both realised that this Cape was going to be the gift that kept on giving as night and the temperature dropped. Waking the next morning to a fresh breeze and -38 on the thermometer did little to lift our spirits and we packed in silence and headed back to the river channel. The sea ice was tantalisingly close now, less than 3km away and yet we weren't counting any chickens this time. The river had steepened into a ravine, obviously a powerful white water rapid during the spring melt, unlike the lovely little river we had pottered up on the other side this was steep, dotted with huge boulders and filled with deep snow. Despite going downhill we had to pull the sleds almost as hard as if we had been going uphill and on three occasions 20ft snow drifts filled the valley forcing us to do shuttle runs to get the sleds over the top. Finally we turned a meander in the river and there, spread before us was the ice, flat and inviting like a massive rink ready to be skated happily across.
I can now fully sympathise with a female turtle desperately hauling herself slowly and painfully up a beach to lay her eggs. Some things are meant to be on land, some things are not. Pulks, and the silly ginger bearded Brits pulling them, are definitely sea mammals and the relief and accomplishment we felt as we crossed the tide gap back onto the ice must be the same as the turtle as she slips gratefully back into the ocean. I do doubt that the turtle turns round to the land, gives it the finger and tells it to go f*$k itself, but it's nice to think that maybe in her own way she does and after all, who could blame her.
So off we went again, ignoring the map and the drawn line that pointed us towards the next Cape and the recommended over-land crossing, instead heading belligerently for the sea ice and a coastal route beyond where we belong.
"Whatever you think you can do, or believe you can do, begin it. Action has magic, power and grace." *Thanks Celine!!!